Living Your Best Life At Every Age: I AM the change
Living your best life – it is the mantra for the 21st century. Experts tell us that living your best life is a proactive pursuit. We must be willing to take action, make choices and own our existence, but what exactly does "living your best life" mean? How do you go about it, and is it something that changes over time?
A Center for Disease Control report revealed that Black women are living longer than ever before, and experts believe it is because many of us are making a concerted effort to live healthier and better throughout the years. And although there is no one-size-fits-all guide to achieving that inner peace and glow, many African-American women are working not only on getting healthy and fit but also finding new ways to satisfy their curiosity; expand their skill set; live in the moment; manage their finances, and embrace the people and things they value.
Last fall, The Black Women's Agenda, Inc. (BWA) hosted Living Your Best Life at Every Age – an  interactive forum that featured a panel of accomplished, influential Black women ranging in age from 20-74. Together with nearly 700 workshop participants, the panel shared personal stories about their journeys to fulfillment and tips for getting the most out of life. Inspired by its success BWA, in partnership with AARP and its National Collaborating Organizations,  launchedLiving Your Best Life: I Am the Change,a series of town hall forums that focus on economic empowerment, education and health and connect women to resources that enable them to collectively discuss what the new realities of aging mean for their lives. The first "Best Life" town hall was held in September during BWA's 41stAnnual Symposium Town Hall and Awards Luncheon. Additional events are scheduled to take place in St. Louis, Baltimore, Detroit, and Little Rock.
"A wise man once said that 'Life is a great big canvas, and you have to throw all the paint on it you can,'" said BWA President Gwainevere Catchings Hess, sharing her vision for the Best Lifetown halls. "We are going to encourage women to experiment with all the paints and create a colorful work of art that brings them joy."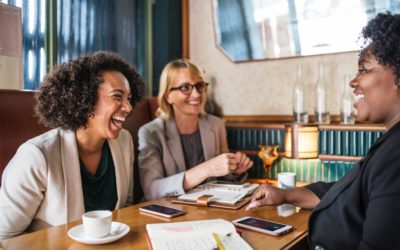 Relatedness is a basic psychological experience. We all need to feel connected to other human beings: to care and be cared for, and to belong. We believe that bringing our country together starts with meaningful conversation. Our goal is to reduce polarization and social bias, to increase the willingness to engage in meaningful dialogue, and create an increased understanding and appreciation for our differences and similarities.
read more